Hidden Power Center, 3 Outlet, 2 USB Ports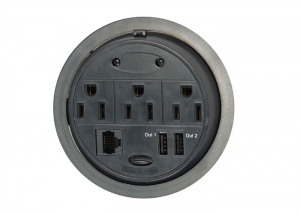 Stock# OFSOSF2000BLK



$130.15 /Each

Reg Price $137.00
You Save $6.85 - 5.00%
Qty: Add To Cart
Quick Overview
Specifications: 3 power outlets
2 USB chargers RJ45
8' power cord. Overall dimensions: 4-3/8" diameter (cutout hole size); UL/CUL listed
15A
125V. Black.
Description
Add the convenience of direct power and data into your workstations, conference tables or training tables. Hidden power center; spring-loaded button to open; lid sits flush when not in use; reduces clutter. Provides direct access to power and ethernet. compact and discreet solution for laptop users.